I love to read, reread, and collect quotes which make me think and act.
Here are a few my favourites, so far.
If I don't have blue, I'll just use red.
Pablo Picasso
How difficult it is to be simple.
Vincent van Gogh
Don't wait for inspiration, it comes while working.
Henri Matisse
They did not know it was impossible so they did it.
Mark Twain
Logic will get you from A to B.  Imagination will take you everywhere.
Albert Einstein
If you get tired, learn to rest, not to quit.
Banksy
Do more things that make you forget to check your phone.
an addict
Don't think about making art, just get it done.  Let everyone else decide if it's good or bad, whether they love it or hate it.  While they are deciding, make even more art.
Andy Warhol
I paint what I like, when I like, and where I like.
David Hockney
When you're being creative, nothing is wrong.
John Cleese
Nothing will stop you from being creative so effectively as the fear of making a mistake.
John Cleese
Whatever you're doing today, do it with the confidence of a 4 year old in a batman t-shirt.
😉
I love learning, but hate being taught.
Winston Churchill
Tell me and I forget, teach me and I may remember, involve me and I learn.
Benjamin Franklin
Silence your mind, pick up a pencil and draw.
…
Painting is just another way of keeping a diary.
Pablo Picasso
Paint first, then think.
David M. Kessler
It took me four years to paint like Raphael, but a lifetime to paint like a child.
Pablo Picasso
Everything's possible if you've got enough nerve.
J.K. Rowling
Don't look back, you're not going that way.
…
Creativity is allowing yourself to make mistakes.  Art is knowing which ones to keep.
Scott Adams
Everything we hear is an opinion, not a fact.  Everything we see is a perspective not the truth.
Marcus Aurelius
I would rather die of passion than of boredom.
Vincent van Gogh
Don't bend. Don't water it down. Don't try to make it logical. Don't edit your own soul according to fashion. Rather, follow your most intense obsessions mercilessly.
Franz Kafka
Impossible is just an opinion.
Paulo Coelho
Every disadvantage has its advantage.
Johan Cruijf
Whatever you're meant to do, do it now.  The conditions are always impossible.
Doris Lessing
An artist is not paid for his labor but for his vision.
James Whistler
Artists give people something they didn't know they were missing.
Daniel Pink
Comparison is the death of joy.
Mark Twain
Everything is hard before it is easy.
Goethe
Work every day. No matter what has happened the day or night before, get up and bite on the nail.
Ernest Hemingway
If you think you're too small to make a difference, you haven't spent a night with a mosquito.
African proverb
Drawing is rather like playing chess, your mind races ahead of the moves that you eventually make.
David Hockney
If there's no wind, row.
Latin Proverb
If there are waves, go surfing.
Surfers proverb
I hope for nothing. I fear nothing. I'm free.
Δεν ελπίζω τίποτα. Δε φοβούμαι τίποτα. Είμαι λέφτερος.
Nikos Kazantzakis
I hope to arrive to my death, late, in love and a little drunk.
Atticus
You only see it when you understand it.
Je gaat het pas zien als je het doorhebt.
Johan Cruijf
The most important decision you will ever make is to be in a good mood.
Voltaire
We are our choices.
J.P. Sartre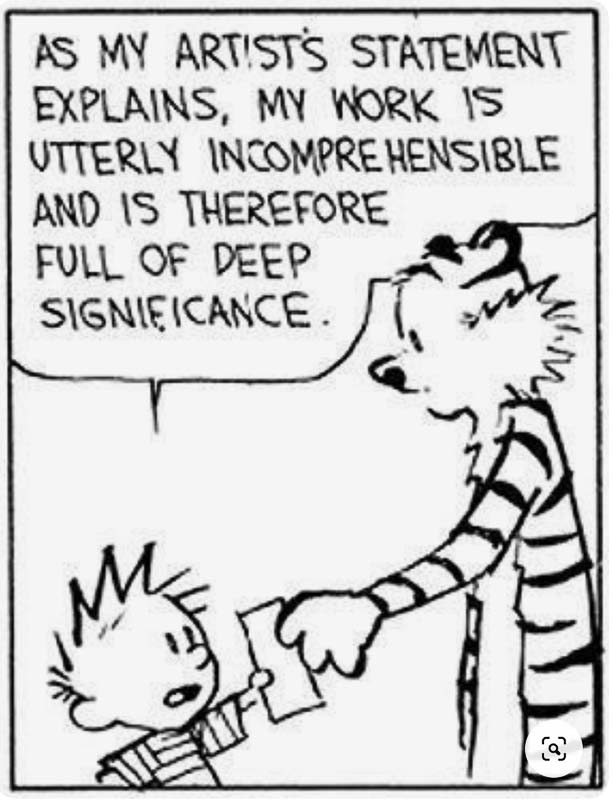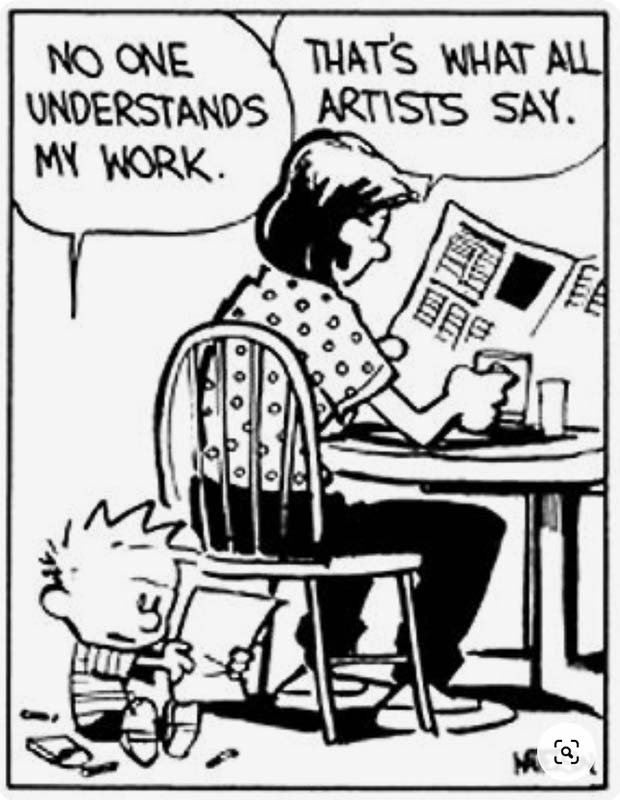 Calvin & Hobbes by Bill Watterson